第23章
那天夜里,我梦见了幽灵。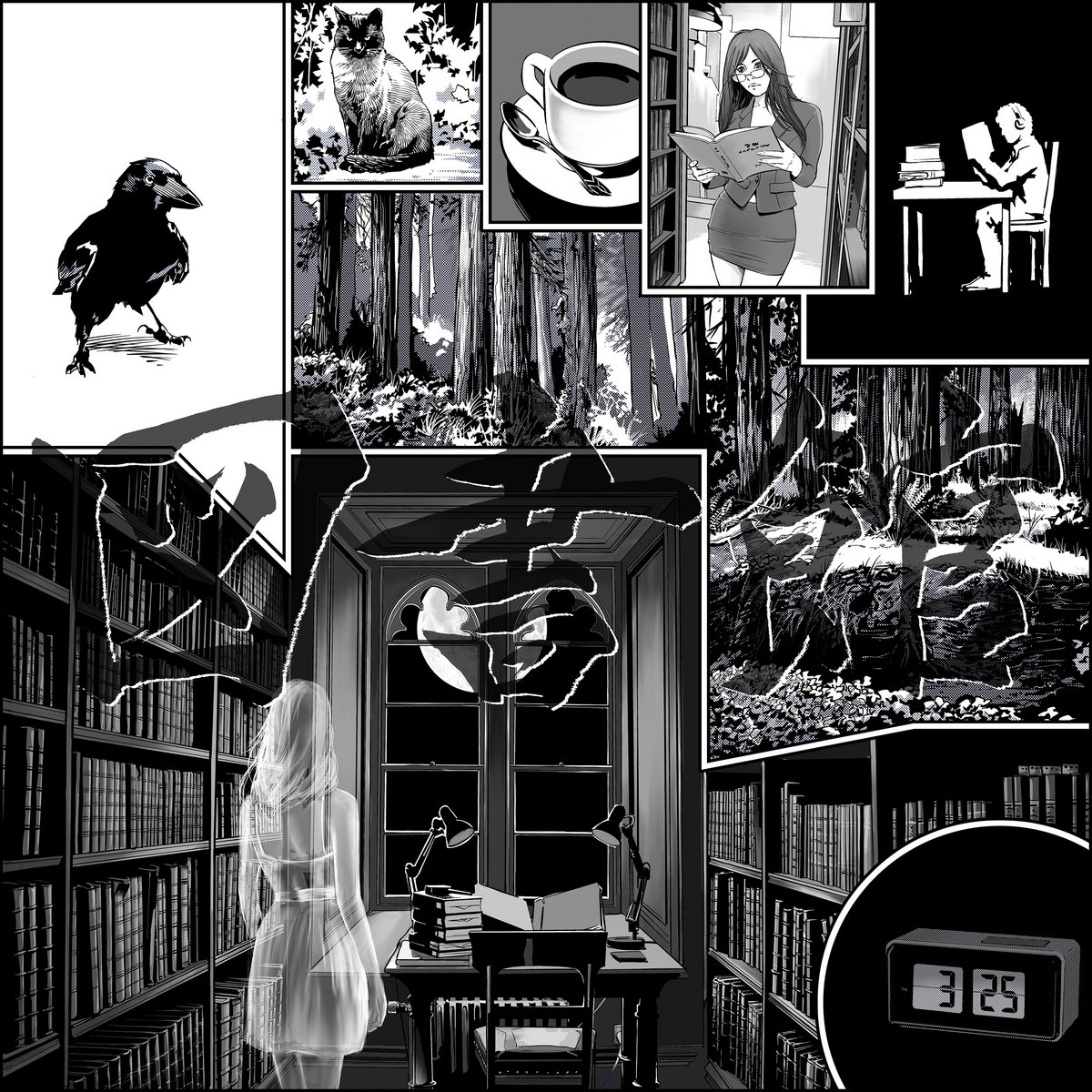 我不知道"幽灵"这一称呼是否正确,但至少那不是活着的实体,不是现实世界中的存在——这点一眼即可看出。
我被什么动静突然惊醒,看见那个少女的身影。尽管时值深夜,但房间里亮得出奇。是月光从窗口泻入。睡前本应拉合的窗帘此时豁然大开,月光中她呈现为轮廓清晰的剪影,镀了一层骨骸般荧白的光。
她大约和我同龄,十五或十六岁。肯定十六。十五与十六之间有明显差别。她身材小巧玲珑,姿态优雅,全然不给人以弱不禁风的印象。秀发笔直泻下,发长及肩,前发垂在额头。身上一条连衣裙,淡蓝色的,裙摆散开。裙子不长也不短,没穿袜子没穿鞋。袖口扣得整整齐齐。领口又圆又大,衬托出形状娇美的脖颈。
她在桌前支颐坐着,目视墙壁,正在沉思什么,但不像在思考复杂问题。相对说来,倒像沉浸在不很遥远的往事的温馨回忆中,嘴角时而漾出微乎其微的笑意。但由于月光阴影的关系,从我这边无法读取其微妙的表情。我佯装安睡,心里拿定主意:不管她做什么都不打扰。我屏住呼吸,不出动静。
我知道这少女是"幽灵"。首先她过于完美,美的不只是容貌本身,整个形体都比现实物完美得多,俨然从某人的梦境中直接走出的少女。那种纯粹的美唤起我心中类似悲哀的感情。那是十分自然的感情,同时又是不应发生在普通场所的感情。
我缩在被窝里大气不敢出,与此同时,她继续支颐凝坐,姿势几乎不变,只有下颚在手心里稍稍移一下位置,头的角度随之略略有所变化。房间里的动作仅此而已。窗外,紧挨窗旁有一株很大的山茱萸在月华中闪着恬静的光。风已止息,无任何声响传来耳畔,感觉上好像自己在不知不觉之间已经死去。我死了,同少女一起沉入深深的火山口湖底。
少女陡然停止支颐,双手置于膝头。又小又白的膝并拢在裙摆那里。她似乎蓦地想起什么,不再盯视墙壁,改变身体朝向,把视线对着我,手举在额头上触摸垂落的前发。那少女味儿十足的纤细的手指像要触发记忆似的留在额前不动。她在看我。我的心脏发出干涩的声响。但不可思议的是,我并没有被人注视的感觉。大概少女看的不是我,而是我后面的什么。
我们两人沉入的火山口湖底,一切阒无声息。火山的活动已是很早以前的故事了。孤独如柔软的泥堆积在那里。穿过水层的隐约光亮,犹如远古记忆的残片白荧荧地洒向四周。深深的水底觅不到生命的迹象。她究竟看了我——或我所在的位置——多长时间呢?我发觉时间的规律已然失去。在那里,时间会按照心的需要而延长或沉积。但不一会儿,少女毫无征兆地从椅子上欠身立起,蹑手蹑脚地朝门口走去。门没开。然而她无声无息地消失在了门外。
其后我仍静止在被窝中,只是微微睁眼,身体纹丝不动。她没准还回来,我想。但愿她回来。不料怎么等少女也没返回。我抬起脸,看一眼枕边闹钟的夜光针:3时25分。我翻身下床,用手去摸少女坐过的椅子,没有体温留下。又往桌上看,看有没有一根头发落在那里,然而一无所见。我坐在那椅子上,用手心搓几下脸颊,喟叹一声。
我未能睡下去。调暗房间,钻进被窝,但偏偏睡不着。我意识到自己是被那谜一般的少女异常强烈地吸引住了。我最初感觉到的,是一种不同于任何东西的强有力的什么在自己心中萌生、扎根、茁壮成长。那是一种切切实实的感觉。被囚禁在肋骨牢狱中的火热心脏则不理会我的意愿,兀自收缩、扩张,扩张、收缩。
我再次开灯,坐在床上迎接早晨。看不成书,听不成音乐,什么也干不成,只能起身静等早晨来临。天空泛白之后,总算多少睡了一会儿。睡的时候我似乎哭了,醒来时枕头又凉又湿,但我不知道那是为什么流的泪。
I don't know if ghost is the right word, but it definitely isn't something of this world– that much I can tell at a glance. I sense something and suddenly wake up and there she is. It's the middle of the night but the room is strangely light, moonlight streaming through the window. I know I closed the curtains before going to bed, but now they're wide open. The girl's silhouette is clearly outlined, bathed by the bone white light of the moon. She's about my age, fifteen or sixteen. I'm guessing fifteen. There's a big difference between fifteen and sixteen. She's small and slim, holds herself erect, and doesn't seem delicate at all. Her hair hangs down to her shoulders, with bangs on her forehead. She's wearing a blue dress with a billowing hem that's just the right length. She doesn't have any shoes or socks on. The buttons on the cuffs of her dress are neatly done up. Her dress has a rounded, open collar, showing off her well-formed neck. She's sitting at the desk, chin resting in her hands, staring at the wall and thinking about something. Nothing too complex, I'd say. It looks more like she's lost in some pleasant, warm memory of not so long ago. Every once in a while a hint of a smile gathers at the corners of her mouth. But the shadows cast by the moonlight keep me from making out any details of her expression. I don't want to interrupt whatever it is she's doing, so I pretend to be asleep, holding my breath and trying not to be noticed.
She's got to be a ghost. First of all, she's just too beautiful. Her features are gorgeous, but it's not only that. She's so perfect I know she can't be real. She's like a person who stepped right out of a dream. The purity of her beauty gives me a feeling close to sadness–a very natural feeling, though one that only something extraordinary could produce. I'm wrapped in my covers, holding my breath. She continues to sit there at the desk, chin propped in her hands, barely stirring. Occasionally her chin shifts a fraction, changing the angle of her head ever so slightly. As far as anything moving in the room, that's it. I can see the large flowering dogwood just outside the window, glistening silently in the moonlight. There's no wind, and I can't hear a sound. The whole thing feels like I might've died, unknowingly. I'm dead, and this girl and I have sunk to the bottom of a deep crater lake. All of a sudden she pulls her hands away from her chin and places them on her lap. Two small pale knees show at her hemline. She stops gazing at the wall and turns in my direction. She reaches up and touches the hair at her forehead–her slim, girlish fingers rest for a time on her forehead, as if she's trying to draw out some forgotten thought.
She's looking at me. My heart beats dully in my chest, but strangely enough I don't feel like I'm being looked at. Maybe she's not looking at me but beyond me. In the depths of our crater lake, everything is silent. The volcano's been extinct for ages. Layer upon layer of solitude, like folds of soft mud. The little bit of light that manages to penetrate to the depths lights up the surroundings like the remains of some faint, distant memory. At these depths there's no sign of life. I don't know how long she looks at me–not at me, maybe, but at the spot where I am. Time's rules don't apply here. Time expands, then contracts, all in tune with the stirrings of the heart. And then, without warning, the girl stands up and heads toward the door on her slender legs. The door is shut, yet soundlessly she disappears. I stay where I am, in bed. My eyes open just a slit, and I don't move a muscle. For all I know she might come back, I think. I want her to, I realize. But no matter how long I wait she doesn't return. I raise my head and glance at the fluorescent numbers on the alarm clock next to my bed … 3:25
I get out of bed, walk over to the chair she was sitting on, and touch it. It's not warm at all. I check out the desktop, in hopes of finding something–a single hair, perhaps?–she left behind. But there's nothing. I sit down on the chair, massaging my cheeks with the palms of my hands, and breathe a deep sigh. I close the curtains and crawl back under the covers, but there's no way I can go back to sleep now. My head's too full of that enigmatic girl. A strange, terrific force unlike anything I've ever experienced is sprouting in my heart, taking root there, growing. Shut up behind my rib cage, my warm heart expands and contracts independent of my will–over and over. I switch on the light and wait for the dawn, sitting up in bed. I can't read, can't listen to music. I can't do anything but just sit there, waiting for morning to come. As the sky begins to lighten I finally sleep a bit. When I wake up, my pillow's cold and damp with tears. But tears for what? I have no idea.